Looking for more comfort and amenities than your car can offer… but don't want to invest in expensive RV? Camper vans are the one of the hottest trends in camping, as they offer much better mileage than a large camper and more comfort and amenities than a car or tent.
The Downside to Car Camping
Camping is a cheap but rewarding way to vacation and travel. Heck, some people love it so much, they've turned it into a lifestyle. I love car camping, but I know it can be a hassle trying to fit and organize everything in the truck, and it's not always comfortable or convenient. This can mean shorter camping trips and less frequent vacations.
Many of us car campers have dreamt of getting that RV or trailer, but the high cost seems to keep it out of reach. Not to mention, the gas mileage is awful.
Jason Odom, author of Vanabode: Happily Camp, Travel and Live Forever on $20 a Day,  is one of those people that has turned van camping into a lifestyle – and a highly enjoyable one at that. In his book, he talks about how the average person only has about 4 hours a day to spend in their house or apartment (when you remove time spent at the office and sleeping). Therefore, van living is not much different, except the mortgage or rent expense is not there.
He argues that he gets a better night sleep in his van than a hotel room, and he shows others how to do the same thing. He has a section in his book that overs van set up and the cost of outfitting. This includes arranging your Vanabode for awesome sleeping, plus cooking, food storage, bathing, laundry and even making money while traveling.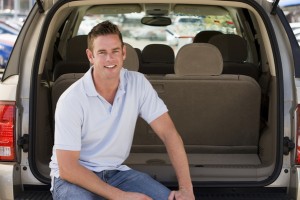 Several other van camping enthusiasts have also written books on the topic – some focusing on living in a van to cut costs or get out of debt, like Robert Wells, author of How to Live in a Car, Van or RV–And Get Out of Debt, Travel and Find True Freedom or Tynan, author of The Tiniest Mansion.
Even  if you are just planning a week-long camping trip to a national park rather than escaping the rat race, the advice found in thee books can be very helpful. As you might expect, these van dwellers have a lot more camping experience than most people…
Are you outfitting your van for camping? Ever wondered how to keep mosquitos and other annoying pests out of your vehicle? Check out Skeeter Beaters