Ever wish you could take a break from the heat while out in the wilderness on a summer camping trip?
Look no further! You don't even need to be *glamping* to enjoy the glamorous camping luxury of air conditioning. It's the IcyBreeze portable cooler with built-in air conditioner. Check it out in action here (kids love it!)
It looks like your typical cooler on wheels, except that inside the unit there is a magical cooling system that circulates cold water and blows out icy cold air. Genius! Not only can you transport cold drinks on ice, but now you can have your own personal air conditioner that keeps you cool wherever you go (it works up to 7 hours!).
Here is how it works: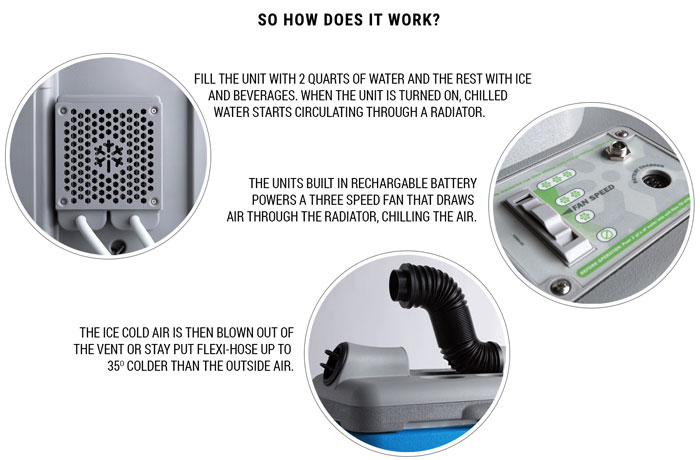 Click here for the IcyBreeze portable air conditioner & cooler
It's perfect for a summer camping trip, but this portable air conditioning unit goes pretty much anywhere you go: road trips, boating, picnics, soccer games, barbecues, on the job site and even in the backyard by the pool.
The IcyBreeze comes in 3 colors: red, green and blue. There are also 4 different packages (Frost, Flurry, Blizzard and Whiteout), depending on which accessories you want (ie. chargers, 12V and 110V power supply, extension cords).
It has 38 quarts of interior cooler space for drinks, food, etc. and weighs a little over 20 lbs. It also comes with convenient rolling wheels.
It's an awesome gadget for camping and other activities if you are an outdoor enthusiast, use it for dual purposes and plan on using it multiple times a year. If not, it's probably just an overpriced cooler.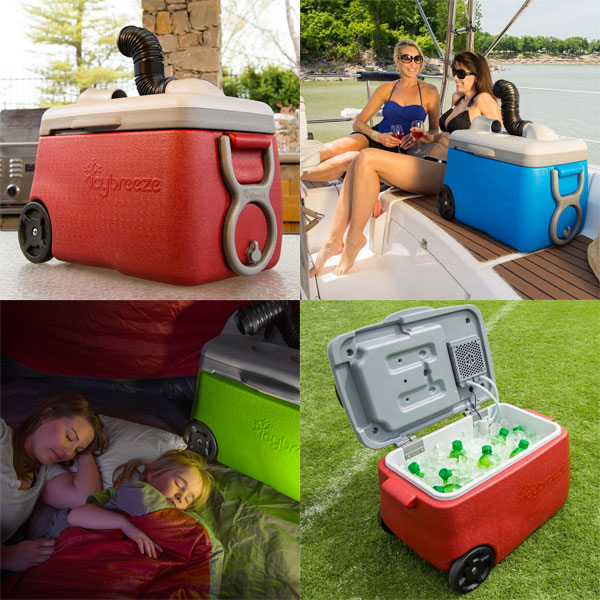 Click here for more information