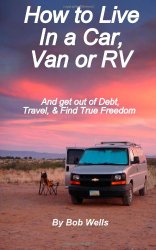 We are seeing more and more people traveling and living out of vans and RVs, from retired couples to internet entrepreneurs to authors to thrill-seekers. Whether you want to save some serious money on living expenses or you are looking for an inexpensive and fun way to travel the country, How to Live In a Car, Van or RV is a great resource.
If you've ever gone car camping before, you already know that a big part of a successful and enjoyable outdoor vacation is being prepared and organized. You don't necessarily need a lot of "stuff" – in fact, the less the better. The trick is knowing how to do more with less, and what that "less" actually consists of.
If you're on this site, I'm guessing that you are an outdoors enthusiast and are not afraid of packing light. You like the adventure and freedom that car camping offers, yet you are ready to take on challenges and unexpected situations should they arise.
Living out of a vehicle for any length of time is a great way to experience all of this. However, compared to backpacking in the wilderness or traveling from hotel to hotel with a suitcase, today's car camper can bring a long more of their own creature comforts without feeling like they have left everything behind.
Laptop computers, heated blankets, mini car coolers and gourmet coffee makers are just some of the car camping accessories that are attracting more people to the outdoors. For trips that extend longer than a weekend, these accessories become even more important.
Before venturing off in your vehicle, it's wise to get tips from someone who has already done it. Just like going camping for a weekend, preparation can make-or-break a trip.
Bob Wells shares some good ones in his book, including using power generators that are actually small and quiet – or installing solar panels for about $500 that provide you ongoing free energy (as long as you are in a sunny location). Ideas like this are not only useful, but they can save you money and give you a lot more options on the activities you can do on your trip.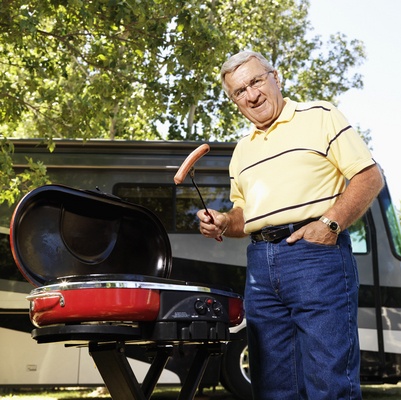 Although people live out of all sorts of vehicles from compact cars to large fancy RVs, this guide mainly focuses on vans.
Vans offer lots of versatility since they can provide a significant amount of space, yet they are not very expensive to buy, especially when you get one used. They also are typically not big gas guzzlers like other recreational vehicles.
Some people who live out of their vans for longer periods of time (or on a regular basis, like during the summer) choose to convert their vans to include conveniences such as kitchens, showers, standing area, work space and more.
You can go from cheap to expensive quickly, but a van provides all options. Wells includes a plan for this, and if nothing else, it's a great way to get ideas for how you may want to outfit your own vehicle.
Depending on the place and time of year that you travel, you may spend all of your time outdoors. Therefore, outfitting your SUV, truck or recreational vehicle may not be necessary. With a basic power generator and an internet connection, you could even operate a full-time online business while living out of your van for a fraction of the price. Talk about cost effective!