A Camping Vacuum? Yes, We've Got That.
Black & Decker 12 Volt Car Vacuum
Seriously?
You probably never thought of taking a vacuum with you camping. Well neither did I – until I saw this one. Actually, I would have probably laughed at you and thought you were a little cookoo if you had mentioned it to me before.
Let Me Explain…
However, car camping is different that regular tent camping. If you use your car or SUV to sleep in, store your muddy hiking boots and cook meals on the back tailgate – you are probably visualizing how nice it would be to have a vacuum handy. And I didn't even mention kids or pets.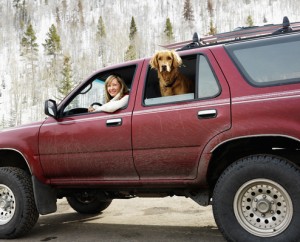 Don't Pay Money for Gear You Won't Use!
Obviously, you don't want to get more gear that will take up a ton of space. It's also not smart to get gadgets that you won't use that often.
With an automotive vacuum, you can use it even if you're not camping of course. If you ever pay to use those vacuums at gas stations, now you don't have to worry about having to find coins to pay for those. Just bring out your handy Black & Decker.
On the flip side, if you don't see yourself using this vacuum, and you don't car camp that often – maybe you don't need a vacuum. Not everyone needs a camping vacuum – even I can tell you that. =)
Pros and Cons of the Black and Decker Car Vacuum: 
This is not a cordless vacuum. You plug it into your car. It has a 16 foot power cord, so unless you are vacuuming your neighbor's tent, you won't need cordless.
It's a 12 volt device, so don't expect the power of your vacuum cleaner at home. That said, it does have the cyclonic action feature that companies like Dyson use.
It does come with accessories, which let you access hard-to-reach crevices in your car. That's where lots of stuff goes anyway.
The price is less than $50 with free shipping. Stop using the gas station suckers for a year, and this mini device has just paid for itself!
Click here for more information