Awesome Cooking Equipment for Car Camping Trips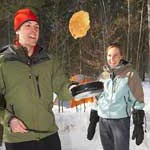 The thing about car camping is that you have limited cargo space, so you need to simply your cooking. This doesn't mean you have to forgo flavor and good food. In fact, simple cooking has other benefits, like less work.
With some innovative cooking gear and gadgets, designed specifically to be used with your vehicle, you can enjoy some pretty gourmet food – when you want it – and without a lot of work. Combine these tools with quality car camping food, and you've created your own easy car camping kitchen, with very little prep work and minimal clean up.
Coleman 2-Burner Camping Stove
A True Camping Stove that Make Cooking Easy at the Campsite: Coleman 2-Burner Propane Stove.
Koolatron Voyager Thermoelectric Cooler
Keep Your Food and Drinks Cool or Warm for Your Entire Trip with the Koolatron Thermoelectric Cooler.
Camping Coffee Maker
How to Get a Great Cup of Coffee with the Coleman Camping Coffee Maker and Percolator.
Camping Dishes and Camping Utensils
How to Find Camping Dishes that are Sturdy, Easy Clean and Dishwasher Safe.
Metal Skewers for Car Camping (22-33 Inch)
Metal Skewers for Roasting Marshmallows, Hot Dogs, Kabobs and More.
Camping Cookware
How to Make Cooking and Cleanup Easy with Affordable Camping Cookware.
Water Disinfectant with Iodine Crystals
Water Purifiers and Water Disinfectant: the Easy Solution to Safe Drinking Water While Camping.