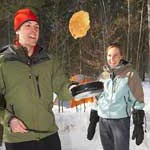 When you camp out of an SUV, truck, van – or especially a compact car – you will need to carry large gear on the exterior of your vehicle. No problem! There are racks, carriers and containers that will haul your gear conveniently and securely – while keeping it out of the way of passengers traveling inside the car.
Rooftop cargo carriers can be especially nice because they can haul a bunch of extra gear – freeing up space inside your vehicle. You don't need to have special gear to use them either – and you can use them even when you are not camping. Bonus! They come in a variety of sizes too.
First, Let's Talk About Bike Carriers

Rated by customers


The bike rack best for you will depend on your vehicle, your budget and how many bikes you need to transport. Racks that you can hook up to your hitch can be very easy-to-use and secure. Take it from someone who has had a bike stolen – security is worth the extra investment.
The hitch-mounted SportRack Hitch 'n' Drive 3-bike rack can fit up to three bikes, and you can purchase a locking knob or Masterlock hitch lock separately to lock the rack to your car and a 6′ cable lock to secure your bikes to the rack.
Alternatively, you can use a hitch-mounted platform from Thule, which includes a secure locking system.
One of the features I really like about these racks is that they have a "tilt-down" design so that you can still open your rear car door and access items in your trunk without having to take all of the bikes off the rack. This may not be that important for day-to-day bike rides – but if you're car camping, you'll want this feature!
See Also:
Next, Kayak Roof Racks

Rated by customers


J racks are great for transporting kayaks because they are easy to load and unload – and by storing kayaks on their sides, you can transport two instead of one (or more camping gear!). In fact, if you think you will be needing two racks, you can buy 2 pairs of J rack sets together (available in blue, red and yellow).
As far as rooftop storage options go, J racks are at the more affordable end, and you don't have to give up on durability. Look for racks made of steel and have padding to protect your kayak. Racks typically come with heavy-duty tie-down straps as well. I've seen many priced at over $100 for one pair, so if you can get racks for under $75 having the qualities described, you're getting a deal).
It's a good idea to secure your kayak as well, and yes there are locks made specifically for kayaks. A kayak security cable is a long vinyl-coated cable with a combination lock. It can also act as a back-up means of attaching your kayak to your car while driving. There's nothing like peace of mind…
J racks are designed for carrying kayaks and canoes, but can be useful in carrying other large, long items as well. Keep in mind that the maximum carrying load is usually 75 pounds – but this won't stop you from getting a lot of use out of your racks.
See Also:
And Lastly, Rooftop Cargo Boxes

Rated by customers


In addition to providing more storage space, rooftop cargo boxes are ideal for storing things you may not want in your car (ie. camping stoves, water sports gear [great for inflatable kayaks and paddles] or long or bulky items). Ideally, you want a container that is easy to install and comes with a lock.
When it comes to size, you have two basic options: shorter or longer. Your budget, space needs and car type will usually determine which cargo box is right for you. Shorter models usually work better for smaller vehicles, but they can often give you just as much storage space the longer, narrower boxes. Large containers can fit lengthy equipment like skis and snowboards. Narrower boxes provide additional rooftop space if needed for other sports or travel gear.
Rooftop cargo boxes can be a great investment because you can use them even when you're not camping. They come in really handy on weekend or overnight excursions when you need to carry a family-load of sports equipment.
You don't want to get lured into buying cheap cargo boxes that can break, be noisy while driving or cause other annoying problems. A better solution is to look for refurbished or used equipment – where you can sometimes save as much as 30-40%. We use a Yakima – and we love it.
Cargo Boxes to Check Out (don't forget the refurbished and used options):