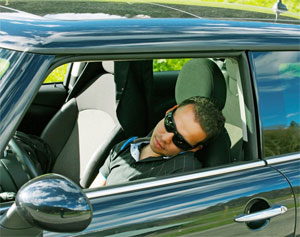 A large part of a successful camping trip is a good night's rest. You may assume that sleeping in your car will be more comfortable that sleeping on the ground in a tent – but that's not necessarily the case.
The trick is to match your car camping sleeping environment as close as you can to the one you are used to at home. This doesn't mean that you have to stick a mattress in your car, but having a flat, cushioned surface to sleep on usually helps – a lot.
Did you make the same mistake I did?
If you've ever bought a regular air mattress and tried to fit it in your car (been there, done that), you already know that this usually does not work. The bed is usually too wide for the vehicle, and often the height takes up a lot of space, making the interior of your car feel kind of cramped.
I've also been a sucker, thinking I could just stick several layers of bedding in the rear of the truck and use all the layers to create a super soft bed every night. Not only does this not work and create a very uneven uncomfortable surface, but it takes up a ton of space in the back of your car that you could otherwise use for more useful (and fun) things.
But then I found the "Only" Inflatable Car Bed…
For this reason, I'm a big fan of this inflatable bed for your car.
First of all, you can deflate it so that it takes up hardly any space when you're not using it.
Secondly, these inflatable mattresses are specifically designed for cars and SUVs, so they create an even sleeping surface which closely resembles a regular bed mattress.
Third, These air beds are designed to fit the size and shape of your vehicle, therefore maximizing space without taking up more space than necessary.
The model I like is called the Back Seat Extended Mattress. It measures approximately 53″-57″ long by 31″-35″ wide and is designed to fit snugly into the back seat of your sedan or SUV. As you can see in the pictures above, the mattress has a built-in "leg" that supports the mattress where it extends past the seat (brilliant!).
It is made of a heavy-duty PVC material and supports up to 800 pounds. But it's not too tough – it has a soft flocked top for comfortable sleeping, and this also conveniently creates a non-slip surface.
What does it come with?
This package includes an air pump that plugs into the 12V outlet in your car, so there's no need to buy a pump or inflate the mattress or huff and puff to blow it up yourself. (PS – the pump has a 2-in-1 design, to it can also quickly deflate your air mattress for you).
* it also comes with an air patch kit in case you happen to jump on your air bed with a fork.
In short, these inflatable car mattresses are very efficient, easy-to-use and make car camping a lot more fun and comfortable. In fact, having an inflatable bed for your car may be just the excuse you need to go camping more often, take mini vacations and enjoy the outdoors.
But who said you need to go camping to sleep in your car?
Check out this comfort right here. It makes me want to take a nap just looking at it.
As you can tell, this SUV mattress is a little bit larger, measuring about 50″ wide and 70″ long. It's made specifically for an SUV, so don't try to use it in your sedan. You'll notice in the diagram above that the mattress narrows about 4″ on one end, which makes it fit snugly in the back of your SUV.
What's different about it:
It essentially comes in 3 attached folding parts, which make it easier to create a custom fit in your vehicle. What's nice about this design is that you can easily use it outside of your vehicle as a beach or patio lounger.
And what's the same…
It's made of the same heavy-duty PVC material at the smaller version above, as well as having a soft flocked surface ideal for sleeping. You also get a 12V electric air pump and patch kit with the car mattress. Inflate it less than 2 minutes and don't jump on it with a fork.